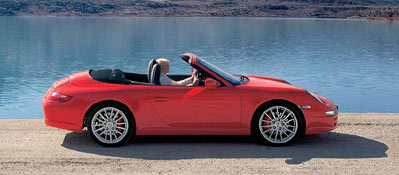 If you're curious and would like to know more about our Porsche Magazine, you'll find selected articles here for you to read as a sample.
We hope you enjoy reading them – and if you want to read more, you can apply for subscription to "Christophorus" online now.
The Company - Beware of the Cayman!
Named for a reptile: The new Porsche is called the Cayman. It will be here this year.
Download PDF/ 47 KB
The Company - Watchfulness Brings Growth
Pages 8 to 10
At the General Meeting, the latest success figures were announced. And Professor Ferdinand Alexander Porsche was appointed Honorary Chairman of the Supervisory Board.
Download PDF/ 179 KB
The Company - New Landmark Gets Green Light
The plans for the new Porsche Museum have been revealed; it is to open in 2007.
Download PDF/ 63 KB
Driving - Open Sky
A passionate relationship with the new 911 Cabrio is especially easy in Andalusia–a driver's report from the land of Don Juan, not only for young lovers.
Download PDF/ 755 KB
History - A Relic of the Sixties
A word of respect: Porsche's first eight-cylinder-racing engines ran between 1962 and 1968. The systems have now been restored at great effort.
Download PDF/ 408 KB
Life Styles - Matteo's Passion
Berlin Premiere for the first Porsche Design store of a new generation worldwide. Star architekt Matteo Thun's design goal was: See, Feel, Shop.
Download PDF/ 239 KB
Travel - Wind, Weather and Waves
For connoisseurs of enjoying life on the edge: Nature stages spectacular shows on Canada's west coast. It has the world's most distinguished weather cottage.
Download PDF/ 291 KB