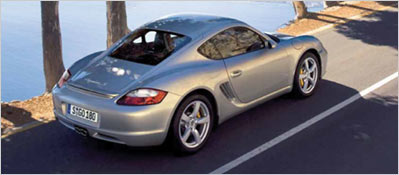 If you're curious and would like to know more about our Porsche Magazine, you'll find selected articles here for you to read as a sample.
We hope you enjoy reading them – and if you want to read more, you can apply for subscription to "Christophorus" online now.
Premiere - The Animal
The new Cayman S is agile and powerful. But the uncompromising mid-engine coupe has more than just inner values.
Download PDF/ 348 KB
Premiere - All-Wheel Power
Open to anything: The two new convertibles, the Carrera 4 and the Carrera 4S, offer all the qualities that distinguish the all-wheel-drive Elevens.
Download PDF/ 322 KB
The Company - Love at First Site
Starting your Porsche relationship with the self-pick-up program is one of the pleasures of Leipzig. Getting your Cayenne at its birth place comes with an eventful discovery tour.
Download PDF/ 319 KB
Anniversary - The Einstein Formula
It's Einstein's Year, and his formula is the talk of the town again. Christophorus retraces his footsteps.
Download PDF/ 159 KB
Column - Bad Loan
It's never too late to learn: You don't lend out your sports car.
Download PDF/ 57 KB
Driving - Four under the Floor
The Maritime Alps are his haunts: Walter Röhrl won the Rallye Monte Carlo here four times. Now, he's back in a new all-wheel-drive Eleven—just to demonstrate its versatility.
Download PDF/ 520 KB
Legend - A Man's Best Friend
Leather jackets are indestructible. They last a lifetime, and never go out of style. A look at the most honest and most rebellious of garments.
Download PDF/ 262 KB