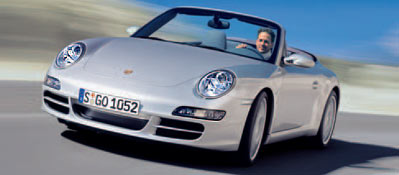 If you're curious and would like to know more about our Porsche Magazine, you'll find selected articles here for you to read as a sample.
We hope you enjoy reading them – and if you want to read more, you can apply for subscription to "Christophorus" online now.
Premiere - Breathing Free
The new Eleven is a great way to follow the sun—even in a convertible. And this freedom includes a freedom of choice—between the Carrera and the Carrera S.
Download PDF/ 342 KB
Driving - Above the Clouds
Up Pikes Peak with the Cayenne Turbo—the super stage of motor sports.The Cayenne Turbo will pack even more power in the future. In addition, all models of the Cayenne are available with a panoramic roof and a rear-view camera, too.
Download PDF/ 314 KB
Column - The Free-way
On the deeper meaning of a journey on Germany`s Autobahn.
Download PDF/ 122 KB
Life Styles - Valleys of Many Delights
A magnificent landscape, zest for life and pleasure: The Napa Valley and the neighboring Sonoma Valley north of San Francisco invite you to pamper yourself.
Download PDF/ 326 KB
Culture - Piping Up
The Ladegast organ in Leipzig's St. Nicolas Church is back, as it proved at its festive inauguration. The restoration was strongly supported by Porsche.
Download PDF/ 337 KB
Art - Grand Designs
Christo and his wife Jeanne-Claude manage the impossible: New York's Central Park is to become a mega-art project, whith 7500 cloth gates.
Download PDF/ 571 KB