Porsche Centre Abu Dhabi breaks ground on new AED133 million showroom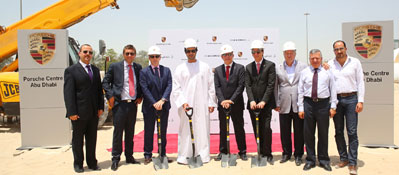 Porsche Centre Abu Dhabi, Ali & Sons Co. LLC, held a ground-breaking ceremony on Tuesday, 28th of May to celebrate the commencement of construction on its new AED133 million showroom. The facility is set to meet growing consumer demand in the capital and is scheduled for completion in summer 2015. On 2,200 square meters distributed over two floors, visitors will be able to view up to 18 display cars, and make use of comfortable lounges as well as underground parking.
Located in Abu Dhabi's Rawdhat area, the new showroom is strategically positioned on Sheikh Rashid bin Saeed Al Maktoum Street, in order to grant customers easy accessibility and comfort. Once completed, it will represent the third facility for Porsche in the country's capital.
Porsche delivered a total of 1,056 vehicles last year in the Emirate of Abu Dhabi. First quarter results indicate another prosperous year for the brand. Sales in the capital are mainly driven by the high popularity of the Cayenne and Panamera, resulting in an 80 per cent model share, followed by the seventh generation 911.
Porsche Centre Abu Dhabi currently operates out of two showrooms, located in the city centre on Salaam Street and in Mussafah. The third facility represents a further strategic step to optimise the overall Porsche brand experience for customers and enable a sufficient infrastructure for future business.
5/28/2013